Reading time: 3 minutes
For companies, telling their story is one of the strongest ways on how they can connect to their clients. A story is intimate and it conveys the values and aspirations of what a company stands for. The most crucial part is how to tell it effectively. Thankfully, there are companies like NANOBOT Medical Communication that help businesses tell their story effectively to their target audiences.
Apart from video productions, we are also well versed in delivering digital solutions like scientific VR/AR/MR, 3D medical animations, illustrations for innovative marketing and training education strategies to the pharmaceutical and biotech industry.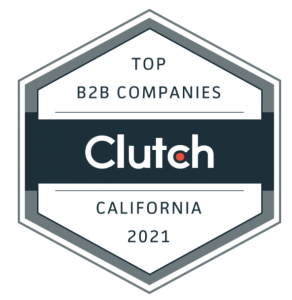 We know that we tread a niche road, that's why receiving awards have always been special for us. Today, we are looking to add another one to our roster and we are very excited to share this one with you. 
Clutch 2021 research says that we were among the top production companies in all of California. This is such a huge milestone for us and our team who have been dedicated to bringing the best solutions to the market.
Here is what we have to say about this awad:
"We would like to extend our gratitude to Clutch and their team for making this award happen. This is the first time that we are going to receive an award from them and we are over the moon just talking about it! Thank you for giving us the opportunity to showcase our services and values to a bigger audience. Lastly, thank you for everything that you've done for the B2B industry."
To our clients, it goes without saying, but we couldn't have done it without you. Your support is pivotal to our success. Thank you for believing in us and in our services. You can expect that we will continue to deliver the best services and solutions from here on out.
In need of a top medical animation studio? Look no further, Nanobot Medical Communication is here to help. Contact us today for more information about the work that we do.
Download Free eBook "How much does Medical Animation explainer cost?" 
Should you choose Freelancer or Studio as a medical animation provider?
What is the COST structure?
Prepare BETTER for the project
How to SAVE the budget?
How to AVOID common mistakes?