Reading time: 4 minutes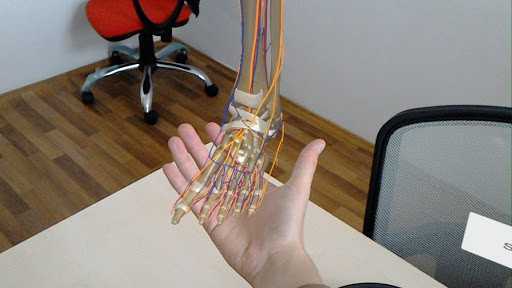 Article
Year of Creation
2018
We are a Medical Animation Studio experienced in creating 3D animation videos of varying complexities. Furthermore, we specialize in developing scientifically accurate VR/AR/MR content.
Today we are reviewing an application for MS Hololens called DynamicAnatomy created by Leiden University Centre for Innovation and Leiden University Medical Centre. Here is the official website of the app https://www.mr4education.com/.
The application was designed to study the anatomy of the ankle joint. The primary users of the app are medical students, doctors, and people, who are interested in human anatomy.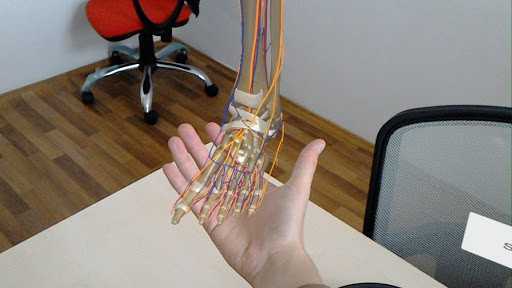 Design and interface
In a nutshell, the app starts quickly (comparing to other similar apps). The interface is at a glance, so you don't need much time to learn controls as they are very user-friendly.
The design has been kept simple and not much attractive, with many different grey rectangular buttons. Despite the interface being visually simple, there is a minor issue that needs to be fixed. We hope that it comes with some updates in the near future, like being able to grab a virtual model and rotate it with gesture and without clicking any buttons. The visual quality of the 3D model is incredible with the texture of bones being visible and overall detailing at a high level.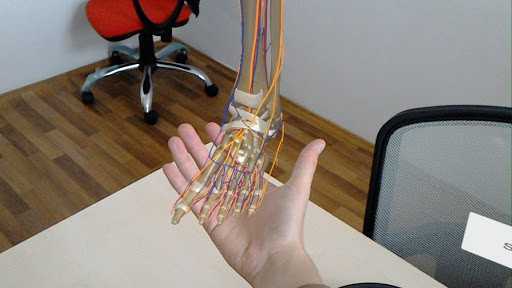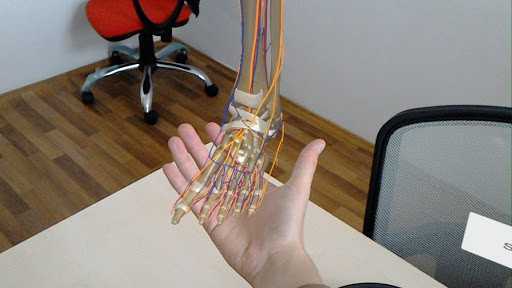 Scientific side
We were impressed with the scientific accuracy of this application. It includes a wide variety of anatomical terms in English and also Latin languages, which is extremely important for medical students. But we have some suggestions based on the scientific side, too. First of all, as this is a dynamic anatomy app, the anatomical structures (3D models of them) should change their shapes instead of overlapping with each other.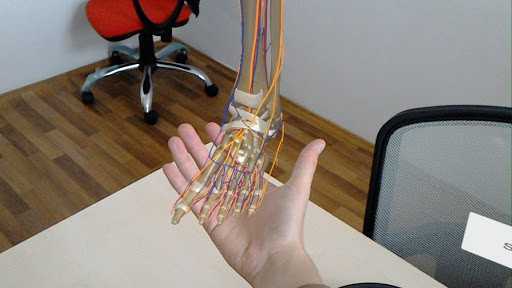 For example, if the joint moves, then the corresponding muscles should change their shape and location accordingly. Also, it would be great for learning if involved muscles could be highlighted during movement.Another thing is that the bone structures (tubers or tuberosities, etc.) are not detailed enough and don't have captions. It is essential in dynamic anatomy to know the points where the muscles are attached to the bones. Another feature that could be added is the ability to look through structures, like making CT sectioning.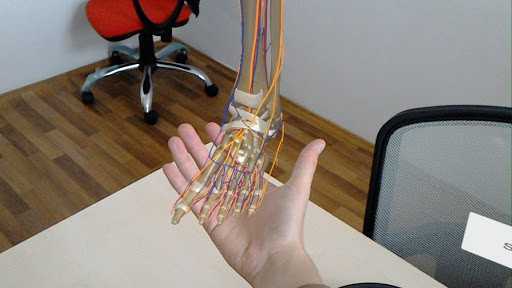 The sound
Unfortunately, there is no sound. Love to see it with future updates.
Possible implementation
The app could be used in medical schools to teach students human anatomy. It could also be useful for doctors to explain to their patients regarding the ankle joint.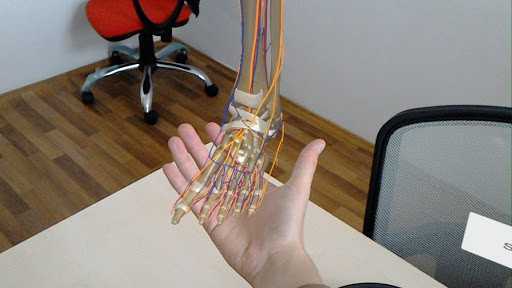 Conclusion
This application is a big step forward in tools for studying. Despite missing some minor features, it is highly innovative, and we hope that future updates will fix them. Moreover, it is one of the first HoloLens applications that has been put into field use.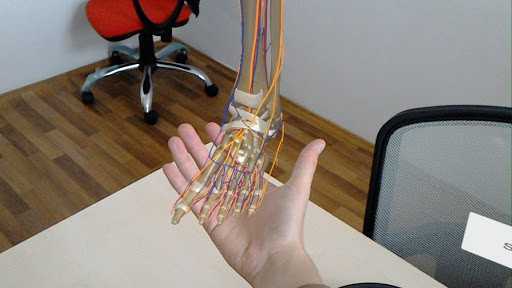 Nanobot Medical Animation Studio develops highly innovative digital graphics to depict actual and conceptual technologies by a synergistic fusion of art and science since 2007. Nanobot provides visually engaging digital solutions like scientific VR/AR/MR, 3D medical animations, illustrations for innovative marketing and training | education strategies to the pharmaceutical and biotech industry.We are devoted entirely to medical and scientific imaging. Our creative production team and experienced medical experts help us produce visually and scientifically accurate media material to make any project a huge success.We are a professional medical animation and interactive design company whose team has a long history of experience in the creation of latter-day colorful photo-realistic animated or static images.
Our client ranges from the Medical Device, Pharmaceutical and Biotechnology Industry, as well as Educational Institutes, Medical Marketing Companies, and Healthcare Agencies Globally.