Reading time: 11 minutes
Now that all the guys are in safety, we can share their stories about what they have been going through during the last three months. Serhii, Maksym and Vasylii told us about what shocked them the most during the last three months, how they escaped occupied territory and their plans for the nearest future.  Vasylii:
"For a month we sat in the basement almost indefinitely. We cooked food with rainwater and melted snow. I was without a house, a computer and a possibility to work. I spent almost 3 months in occupied Mariupol, we were able to take a bath only after 2 months, when it rained heavily and we could collect technical water and heat it over a fire. On the 1st of March, electricity and connection were cut off. There was a complete information vacuum. It was impossible to go online or phone anyone. People from neighbouring districts could only communicate in person by walking down the street, at the risk of coming under shelling at any moment".
-What shocked you the most during the last three months?
"Seeing the aftermath of massive shelling for the first time is a huge shock. Broken burnt-out cars, holes in houses, shell craters in the ground and a lot of broken glass and plastic on the ground. What I had only seen in games and films before was now on the streets of my city.
My mother's house suffered a shockwave from an air strike. The blast wave was so strong that the inter-room wall broke parallel to the floor and now there is a crack all over the wall and it is bent. On the ground floor, a similar wall collapsed, covering a four-year-old child (the child survived).
After seeing the aftermath of the airstrike, when a plane could be heard at night, I hoped that if it dropped a bomb on our house, we would be at the epicentre of the explosion. So that we would die immediately, rather than suffer under the rubble, bleeding to death. Because there was no way to get help.
We went to the basement on the 14th day of the war, when the front line began to move in our direction. All night long, missiles were whistling and one of them hit the roof above us. Then we grabbed our emergency bags and went down to the cellar, where we spent the next 28 days. 
Unfortunately, I had to witness the Stockholm syndrome among other captivated people.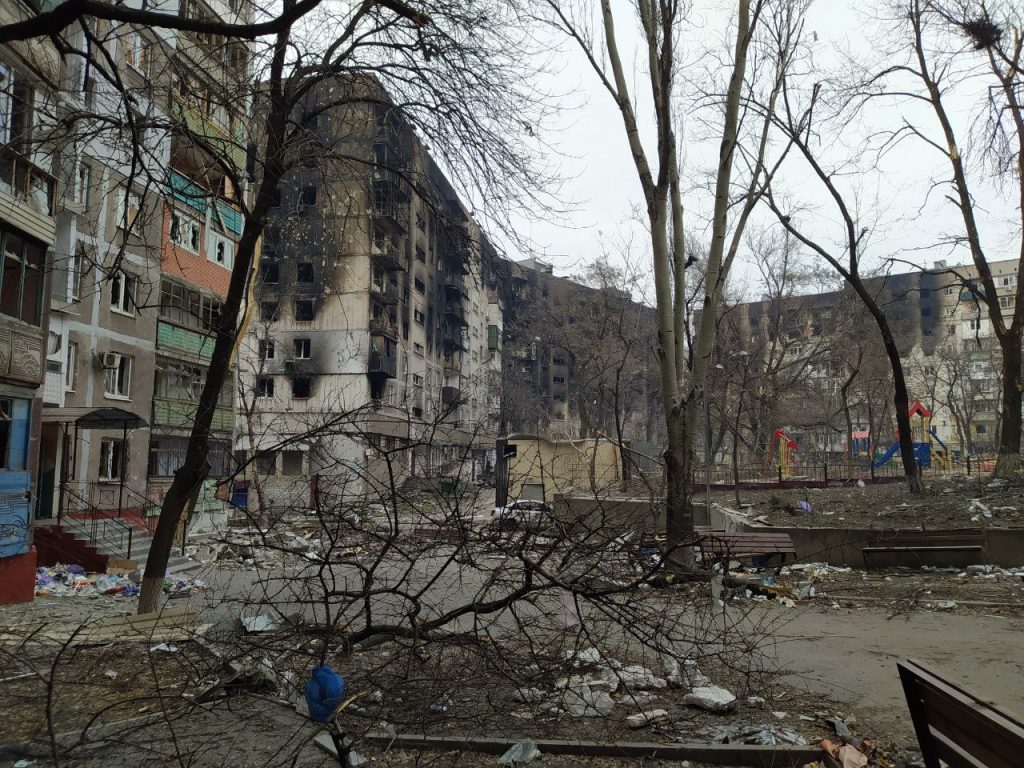 The Russians set up a camp in our house, a storage facility. The first thing they did was going to the "survived" flats. They were coming out of the house with bags and throwing them in the car (looting). A woman and her bedridden mother remained living on the 3rd floor. When a soldier broke into their flat, he saw the woman and tried to rape her. Her mother got up on adrenaline, went down to the commander shouting "help" and then the commander dragged the bastard away.
After getting out of the basement, my eyes were sore and teary from the light for two days, and my lower back and legs were sore in pain for a week.
The city was so transformed in recent years that people who had left to live in Kyiv wanted to go back. Now there are only burned, broken houses, glass on the pavements, shell craters and sometimes unexploded shells, burnt cars, sometimes crumpled by tanks, and people who continue to survive".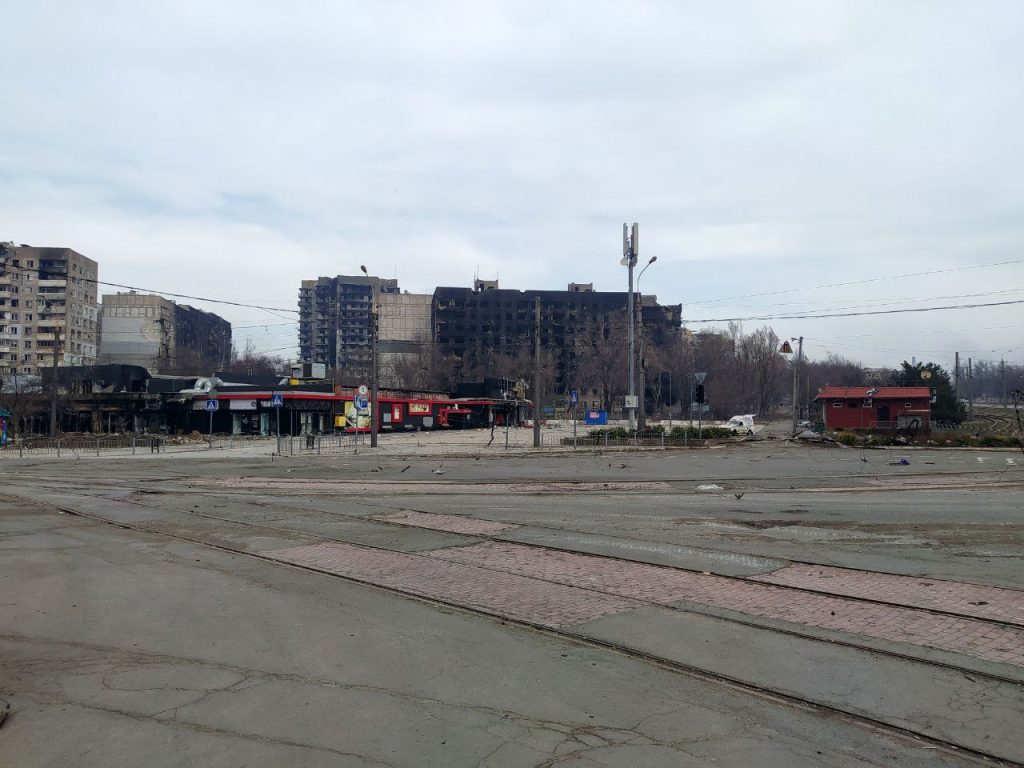 -How did you manage to escape?
"The journey was not easy. First of all, in order to move around in the occupied territory, everyone needs the so-called filtering. It is a procedure where you are photographed, fingerprinted and your phone is checked. Having passed the filtering, the next quest is to find a carrier to Novoazovsk. I drove through Russia because it was impossible to get through without a car to Ukraine, they make it difficult, so that people to go to Russia. I crossed the border with Russia on foot, it took 7 hours to cross the border and get filtered again. From Russia, I took a bus to Estonia and now I am staying in Riga, Latvia.
I really miss working! I love what I do and a 3-month forced break does not make me happier. I have relatives in Mariupol who I will help with money to make it a little easier for them. I really hope this nightmare will be over soon! But even when it is over, I won't be able to return to my hometown for a long time, until at least electricity and internet are restored so that I can work in peace".
Maksym:
-What shocked you the most during the last three months?
"A mine hit the roof (we lived on the top floor). It was above my daughter's room, the entire ceiling fell down.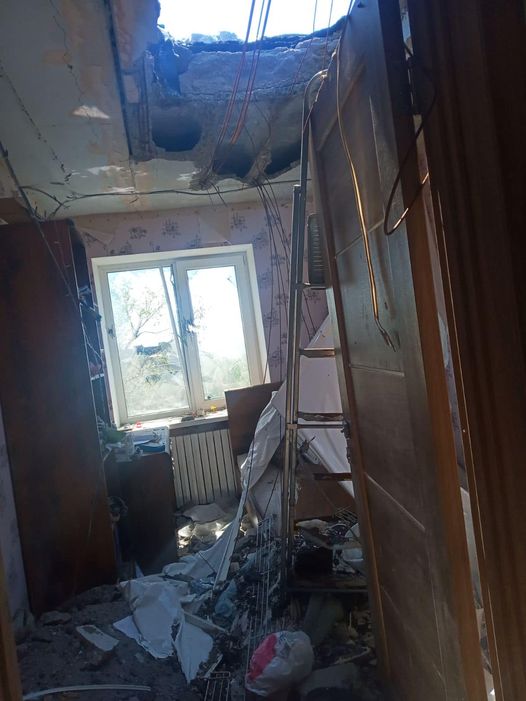 After that, we went to live in another flat a couple of floors below.
An airstrike hit Mariupol University, where there was a bomb shelter and 300+ people were hiding. (we lived 50 metres away from it) the blast opened all the windows, some of the glass on the balcony flew out, and I was carried around the flat.
On the 9th of May, there was a powerful mortar attack, it was so scary that my daughter prayed in tears that she would die quickly and not suffer, the glass was breaking and splinters were flying into the flat. After a couple of hours of silence, we ran to our mother-in-law's house in another neighbourhood, when shelling resumed again, hail missiles were flying 20 metres from us, falling to the ground several times.
Constant freezing cold, 5-10 degrees in the flat, anti-sanitary conditions, no water and no food. Cooking has to be done on fire in the yard, where a missile can hit in at any moment.
To survive we had to loot – warehouses and shops. Money was of no use, the best currency was cigarettes. If you have cigarettes, you have everything.
There was no news at all, an information vacuum. Once I got through to my friends to warn everyone I knew through social networks that I was alive and that everything was okay.
Any illness can be fatal. I had cystitis and was in such pain that I could neither bend nor straighten up, the fever was rising. My hometown was completely destroyed.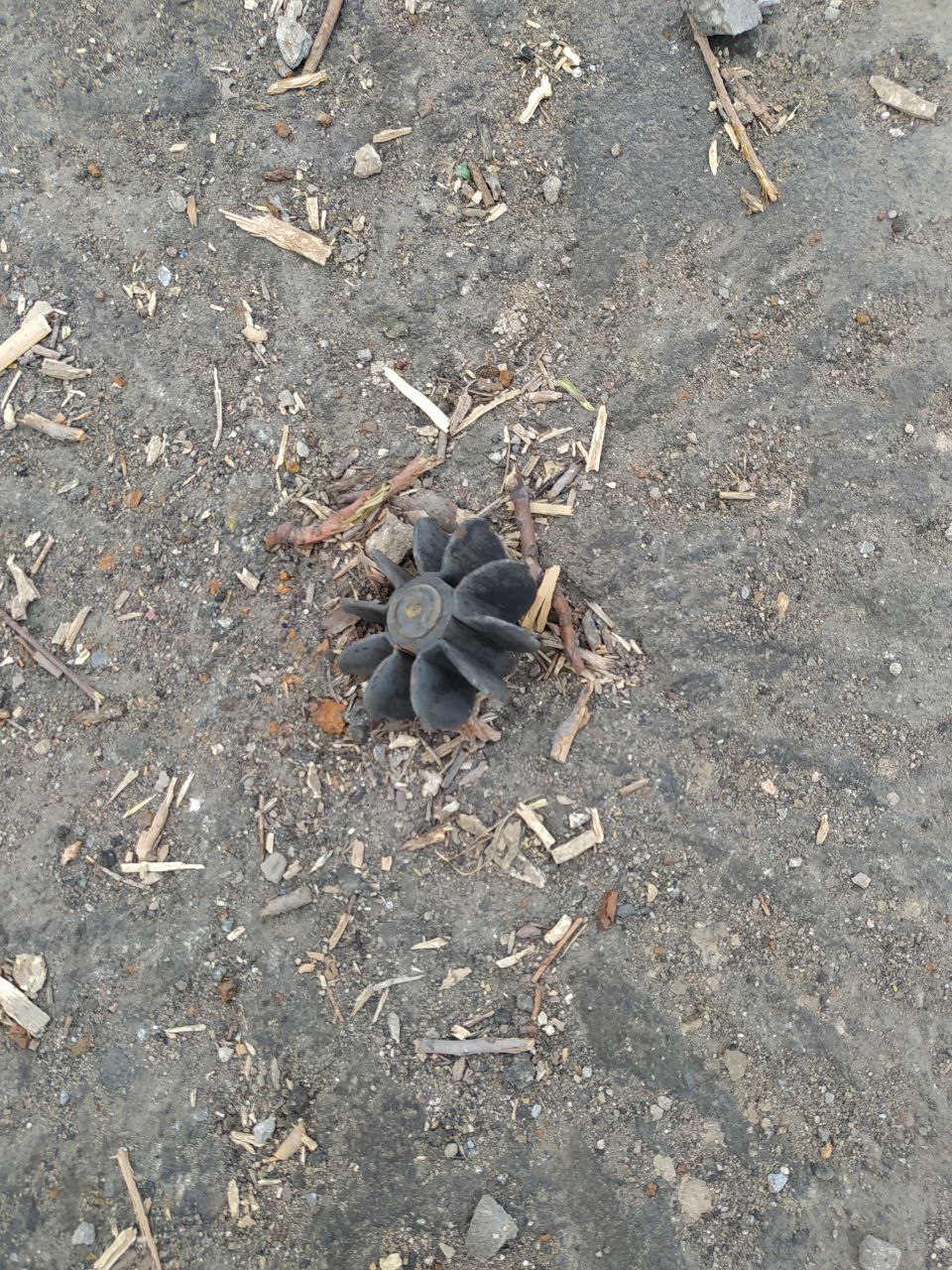 The shells don't whistle as they do in the movies, loud and piercing. It's pretty quiet, and overhead. Eventually, I started to determine by the sound where and how far it flew.
Jet salvo rockets fly with a very distinctive quiet rustling sound like tinfoil. It is better to fall to the ground immediately.
At the end of March, we tried unsuccessfully to get humanitarian aid, that's when we found out there was an evacuation bus towards Russia, as they just wouldn't let us in from Ukraine. Then there was a succession of luck – we were the last to get on the last evacuation bus, after that they would be no for about a week, then after 700 meters we were stopped at the checkpoint and all men from 16 to 55  were checked for any connection to the Azov Regiment, then Russians insistently began to summon us into their ranks, carried a uniform, gave me a gun, I already mentally said goodbye to my family. He opened my wallet, took 2,000 hryvnias from it (although they had Russian rubles and dollars in circulation), and told me to leave. Then we ended up in a filtration camp in Volodarsk. It was a school in a small village, where there were several thousand Mariupol residents, they fed us once a day, and we could buy food for money, but it was very expensive and of dubious quality. And we had to go through filtration. We had to wait over three weeks there. We got placed at first in the gym on the wooden floor and then moved to the mats. Suddenly on the same day, there was an announcement that there were 10 buses to Taganrog without filtration. We got on one of them. The journey of 100 km took a day, taking into account the border crossing, and the new checks from Russia. There was already a mobile network and I was able to contact colleagues from Nanobot and friends. 
Then I was really lucky that I had rubles on my card, so I bought three tickets online to Moscow because there was a friend waiting for me in advance, who agreed to take me in and put me up at his place. Again I was lucky that he and his friends were very sympathetic and helped us, financially, materially, and morally. They gave us time to rest and the opportunity to think about further steps. After that, for a variety of reasons, Riga, Latvia was chosen. 
And there we were accepted as family, as it turned out, Latvians are super people!

Now we have been safe for two months, and everything has been destroyed – the newly bought apartment, house, city, life; my wife, daughter and I were basically alone, no family or friends nearby.
Now we are trying to adapt to the new conditions, to start life anew. As we get the hang of it we go back to work and learn the trends.
The Nanobot studio and the team have been very supportive, from relocation and buying equipment to just moral support". Serhii:
-What shocked you the most during the last three months?
"The corpses of civilians, city ​​dwellers, on the streets of the city. There were many.  And it shocked me. As well as the terrifying sounds of shell explosions and bombs nearby. Those that explode nearby soundув like a bolt of lightning strikes right under the ear".
–Tell us something about what you had to go through you'd like others to know.
"During our stay in Mariupol, we had to cook food on fires in the streets (light and gas were destroyed) literally under shelling. It was common to cook food by the fire, hearing the whistle of artillery shells overhead. Hearing them explode nearby. Hearing a Russian bomber fly over you. In complete uncertainty about where the next projectile or bomb will fall".
-Tell us shortly how you escaped Mariupol and ended up in safety.
"We were able to get out of Mariupol together with friends who had a car. Gasoline was in short supply, some people had enough to leave at that moment. We were travelling in a convoy of several thousand cars. Because there were no green corridors, people simply united at their own peril and risk, hoping that russians would not shoot at the pile of civilians. We had to spend the night on the highway in the middle of the fields, as they simply did not let us through one of the checkpoints. It was not safe: we watched MRLS launches and heard automatic bursts. Our convoy was lucky, the convoy that rode the next day was fired upon".
-Tell us shortly about your plans for the nearest future
"Now that the main threat is behind me, I plan to focus on developing my skills as a specialist. I also want to express my gratitude to our team, the Nanobot company, which all this time tried to get in touch with me and helped and supported me in every possible way when I was able to get out of Mariupol".
Download Free eBook "How much does Medical Animation explainer cost?" 
Should you choose Freelancer or Studio as a medical animation provider?
What is the COST structure?
Prepare BETTER for the project
How to SAVE the budget?
How to AVOID common mistakes?